Written by Pauli Komonen, Antti Ahola and Sofi Kurki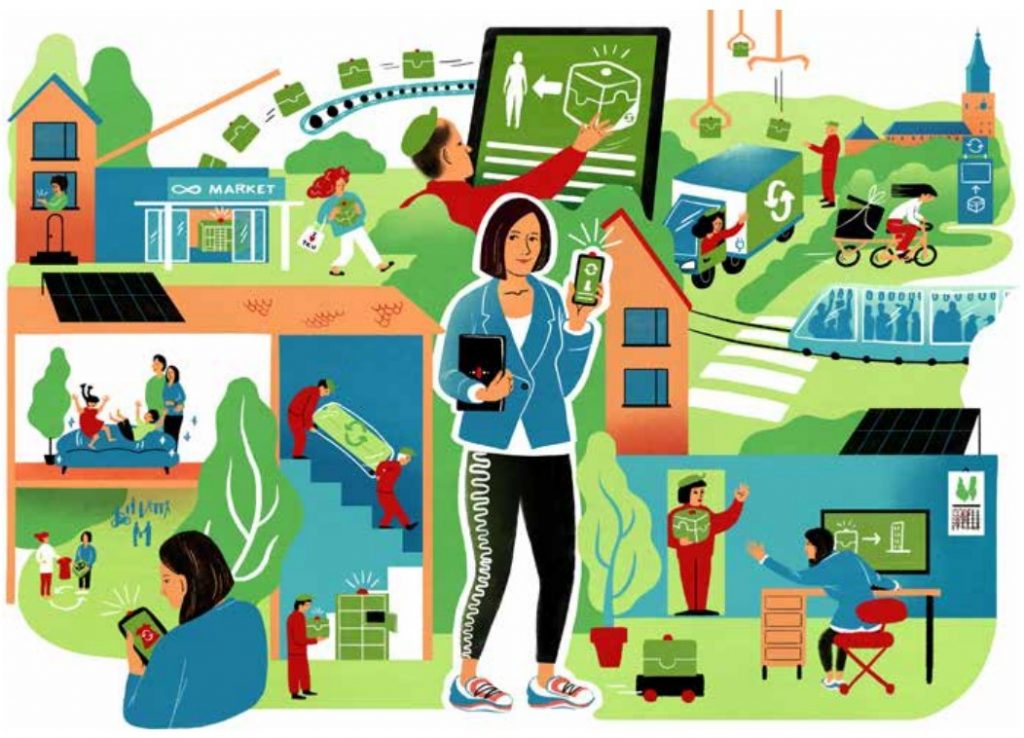 Will all goods be home delivered in the future? Are there other services connected to the delivery? Will you be able to send some goods for recycling at the same time? Is the service highly automated? Are the goods delivered by drone, bicycle or electric vehicle?
In the Open mode project funded by Business Finland, we drew up a future vision and roadmap of last-mile logistics. According to our view, in the future, the last-mile ecosystem will be environmentally sustainable, use automated technologies and employ a flexible and agile operating model open to various actors. The logistical system will primarily function in a consumer-centric manner.
The corona era has boosted many consumer trends relevant to logistics, and, with the growth of e-commerce in particular, the need for last-mile deliveries can be expected to increase in the future. Multi-local working and student life alters the routes we take every day. Consumers expect the deliveries to be increasingly faster, more transparent and more accurate.
However, consumer behaviour trends do not necessarily develop in a linear fashion, growing at a steady pace. We have, therefore, included in our future scenarios such things as shopping facilities providing experiences and solutions for sparsely populated areas. It is possible that when the pandemic is over, alongside smooth online services, people may yearn for physical and social experiences, such as browsing in shopping centres.
At the same time, development of the logistics sector is strongly shaped by technologies from IoT solutions to flying vehicles and warehouse robotics. Based on the roadmap work, we want to give businesses operating in the field five tips that will help them succeed in the future:
1) Invest in data and automation. In many respects, logistics means competition with efficiency and prices. Actors in the field are currently investing especially in cloud logistics, warehouse automation, predictive analytics and artificial intelligence. The growth expectations in the autonomous solutions market are huge. This is a race you must not miss.
2) Listen carefully to what consumers expect. The corona era has changed the way consumers live and the expectations they have. People have come up with new ideas on how to organise their everyday lives, but it is still a mystery how lasting these changes are. Many of the everyday habits are also firmly established. Using agile methods to gather consumer understanding will help you understand the changing end user expectations.
3) Invest in sustainability. The expectation of taking the environment into consideration is an imperative that is reflected across the entire logistics value chain. The growth in e-commerce may bring more vehicles to congested areas, which calls for new solutions, such as transition to 24/7 deliveries and the use of bicycles. Young consumers in particular are interested in the sustainability of transport companies' operating practices.
4) Use ecosystems. Global value chains require the use of network-type practices. In the future, such factors as the ability to utilise openly shared data, crowdsourcing-based solutions, and increasing geographical convergence in production, supply and consumption will become emphasised. An ecosystem-based approach requires trust and functional interfaces in the systems of various service providers.
5) Try out new service models without prejudice. The servicisation of consumers' lifestyles is a long-term trend: more and more things are consumed as services. For example, smart locks and smart homes as well as remote monitoring of deliveries will bring more flexibility to the last-mile service provision. Ultimately, bold trials will show how the new services find their place in the everyday lives of consumers.
Read more about the future vision and roadmap of last-mile logistics here: Towards a consumer-centric last-mile ecosystem, Roadmap 2020-2035